Houses for rent in Mauritius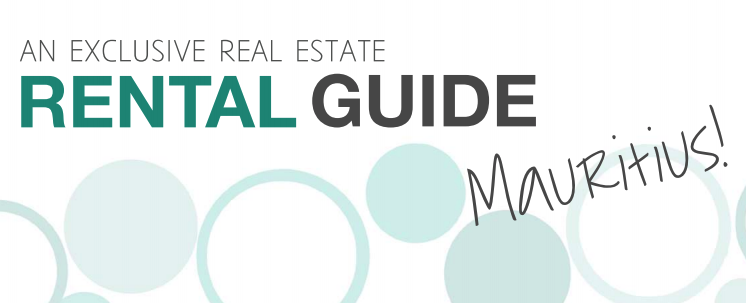 Interest in moving to Mauritius has been on a steady increase over the last couple years with inquiries on Facebook groups, Rental Pages and Expatriate forums reaching all-time highs. One of the main challenges for those who are considering a move to the beautiful tropical island has been to find houses for rent in Mauritius. The Mauritius property market has its own nuances and for those who are not familiar with it, we have put together this post as a handy resource or short rental guide.
Houses in Mauritius to rent
Depending on where you are coming from Mauritius may either seem like amazing value or the most expensive place in the world! As an example to illustrate this statement, typically properties in South Africa are very well priced and in comparison to global norms very "affordable" so it makes Mauritius houses seem expensive by comparison. However if you are coming from a big city like London or Paris, Mauritius will likely seem to be excellent value for money, instead of renting a small 1 or 2 bedroom apartment, for the same price, you will find yourself a beautiful 3-4 bedroom house in Mauritius to rent, maybe even on the beach!
Property Types:
House or Villa
A house or villa is a stand-alone dwelling usually with its own garden.
Ideal for families, people with pets or house renters looking for a bit more privacy. The typical rental house is 3 – 5 bedrooms, however, it is possible to find houses to rent with less or more rooms.
Apartments
The type of rental apartment can vary greatly from a small studio to a large 4 bedroom penthouse. It is a great option for those wanting a "lock-up & go".
Apartment buildings may have common areas such as swimming pool, gym or tennis courts.
Complex
A rental home in a complex is usually a small stand-alone or semi-detached house/townhouse. Complexes offer a great family environment and often have similar facilities to apartment blocks,
Gated Estate
Living within a gated estate is a popular option amongst expatriates. Usually with larger rental properties, private swimming pools, great places for children to play and 24-hour security. Some popular gated estates in the North are Belle Vue Harel, Hillside, Bon Espoir and Le Parc de Mont Choisy. In the West, you have Mont Calme, Tamarina Golf Estate, Les Salines Pilot, Plantation Marguery and Les Mulipliant.
Beachfront House
Beachfront properties to rent are in high demand but in short supply, with a limited coastline, you can expect the prices to be quite a lot higher than homes that are not on the beach. A beachfront property can be home directly on the beach or in 2nd/3rd position with beach access.
Finding houses to rent in Mauritius
By far the easiest way to start your search for a home in Mauritius is online, all the best agencies have their own website, are listed on social media and also on the country's main property portal websites. Once you have found a property that interests you, contacting the agent will likely lead to more properties being revealed from their portfolio that wasn't advertised online. This is key, as the best agents will always have more properties in their portfolio than that which is advertised, for a variety of reasons such as it has only just become available, the owners don't want to advertise or the property may still be under construction. Using a good Estate Agent is the best way to find houses to rent in Mauritius, they will always know the best spots, get the best pricing and have hidden gems that you otherwise would not have found.
Budget for renting a Property in Mauritius infographic below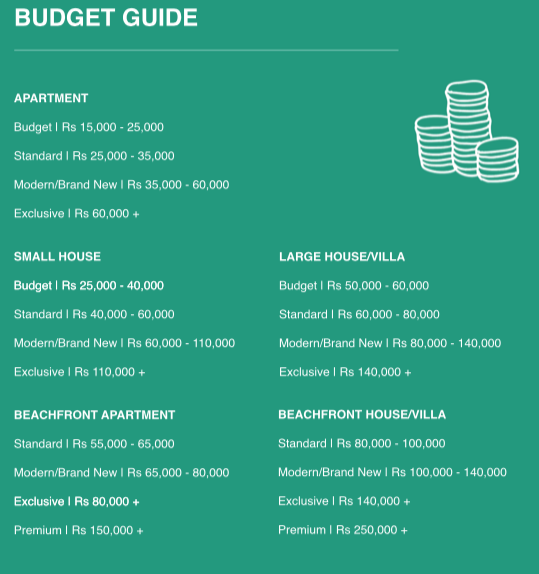 6 Important things to Remember when renting in Mauritius:
1. Estate Agents do charge a Agency commission fee to both the tenant and the landlord in Mauritius, it is standard practice on the island.
2. You will be expected to pay a security deposit on the signature of the lease agreement. The amount will vary from 1-3 months of the rental amount.
3. In most circumstances, Electricity and services are charged separately to the house rental.
4. Houses on the beach are typically much more expensive than their inland counterparts.
5. In most cases, pets are not allowed in apartment blocks
6. Most long term rental leases are a minimum of 12 months in duration.
Are you thinking of moving to Mauritius? Why not contact us and we can help you along the way? MW Property Group has a premium selection of houses to rent in Mauritius and we pride ourselves on offering a hassle-free service for our clients, ranging from single professionals, families, embassy staff to corporate placement we have something for everyone.
Why not download our —-> Free Property Rental Guide for Mauritius <—-