Le Parc de Mont Choisy
---

Mont choisy Beach, just a few minutes walk from the western gates of the estate, is among the most beautiful in Mauritius. stretching almost three kilometres from trou aux Biches to pointe aux canonniers, this is the island's longest beach: a gently curving strand of golden sand lined with a shady grove of filao trees on one side and by gentle, crystal-clear aquamarine water on the other. it's the perfect beach for long walks, frequent swims and romantic sunsets.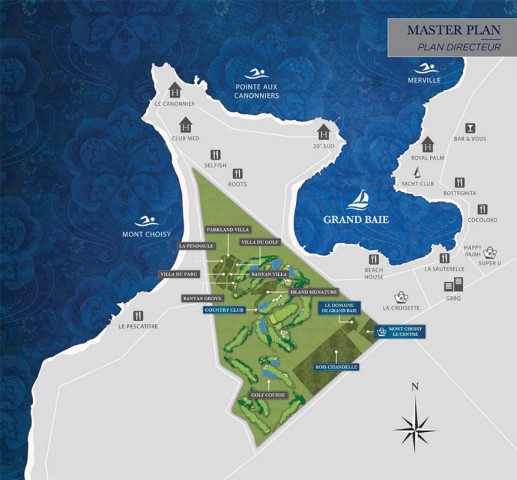 CELEBRATION OF CONTEMPORARY ISLAND LUXURY
We have used the term 'barefoot luxury' to define the quality of the environment we are creating at Mont Choisy. Our choice of materials, finishes and colours engage with the environment to create a magical and sensual experience… a timeless and elegant dream getaway.
Designing in Mauritius is both similar and totally different at the same time. similar in that one wants to capture the spirit of the place and different in that on an island, luxury is about tranquility, space and relaxation.
Our simple palette of natural materials will be allowed to age and acquire a patina. Naturally bleached timber cladding will be complemented by walls of local stone. interiors will feature granite countertops and travertine tiles. and everywhere, the principle of integrating indoor and outdoor living into a seamless experience will be echoed by the integration of the built environment into the magical landscape of Mont Choisy.
(click map to enlarge)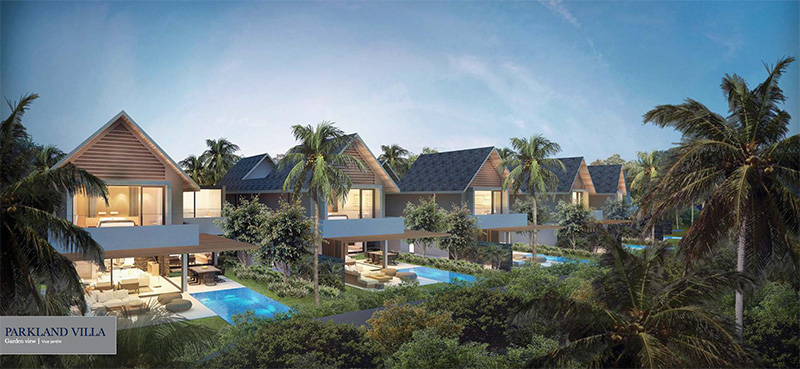 Parkland Villa
The architecture focuses on indoor outdoor living with floor to ceiling windows framing the views. the vernacular design provides natural ventilation and creates airy open-plan interiors, while large outdoor areas designed for alfresco living feature spacious terraces.
3 bedroom villa internal area:
238 m2
External area: 38 m2
total area: 276 m2
1 garage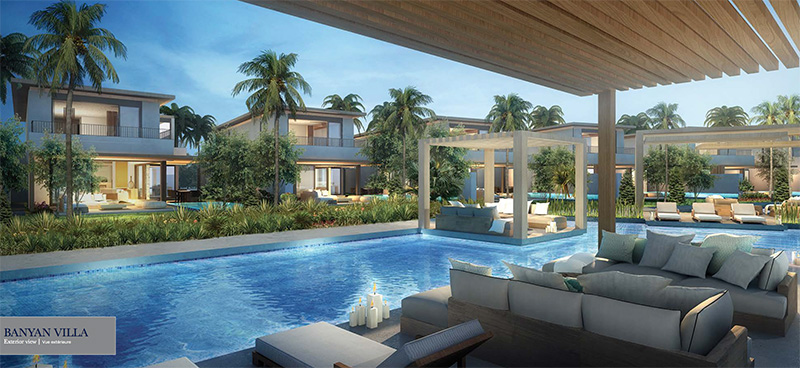 La Peninsule
Just 100 metres from the powdery sand and crystalline waters of Mont Choisy beach, with spacious interiors opening onto view decks and terraces, these two and three bedroom apartments and penthouses are arranged in intimate blocks around four massive swimming pools.
2 Bedroom apartments – area: 150 m2
3 Bedroom apartments – area: from 185 m2 to 236 m2
Penthouses – area: from 201 m2 to 329 m2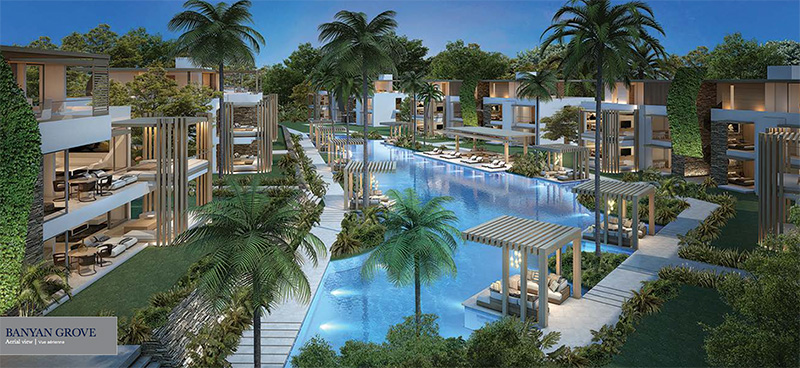 Banyan Grove
set in a grove of centuries-old Banyans, these apartments seem to float into the arms of the giant trees. Imagine escaping on walkways through the branches to a world of entrancing views over the golf course or to the inviting free-form pool.
2 Bedroom apartments – area: 165 m2
3 Bedroom apartments – area: 250 m2
2 to 3 Bedroom Penthouses – total area: from 158 m2 to 367 m2 areas above include the terraces.
Request Brochure & Price-list