AZURI
---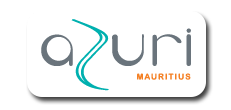 "Top 10 Safest Investment Hotspots in the world" – The Daily Telegraph
Azuri is absolutely unique and differs in every way from the existing mix of Mauritian IRS projects (properties approved for foreign ownership). It is a 420 acre freehold beach front site on a stunning lagoon.
The village of Azuri is 25 km North East of the capital Port Louis and 20 minutes from Grand Baie, it is the first time that Mauritians and International Residents can buy in the same exclusive district with a blend of IRS and Luxury Local residences.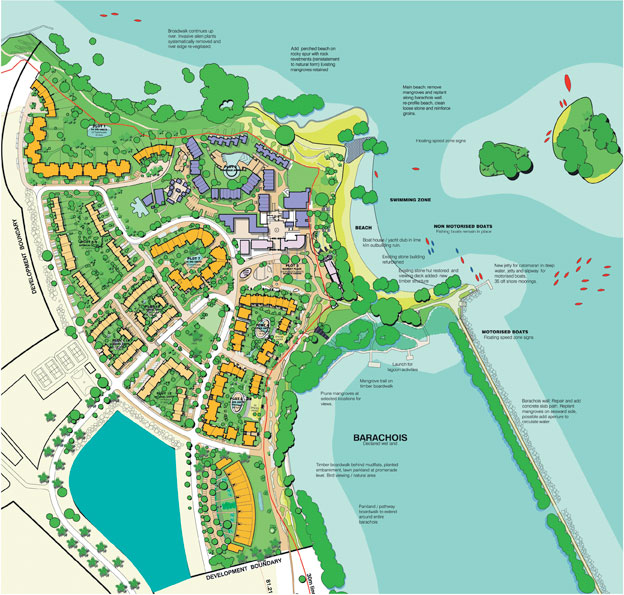 Azuri – unique opportunities to international buyers:
Luxury residences for sale from USD 500k
Rental pool managed by an international hotel chain
Automatic Mauritian Residency
15% flat tax rate in Mauritius
90% already sold to date
Azuri has proven itself to be the most successful and secure property investment opportunity in Mauritius. Azuri has now opened it's doors revealing to the world an ocean front 5* lifestyle village on the north eastern coast of Mauritius, where luxury residences are brought together around a 5* Hotel & Spa, a yacht club with marine facilities and outdoor activities, shops, restaurants, and a golf membership.
The Master Plan
The stunning 170 acre site at Azuri is a blend of freehold ocean front, riverside, forest and agricultural land. 40 acres where the river and ocean meet, will be the platform for the initial phase of the project, a new mauritian ocean front village.
The IRS residences offer sophisticated island living with up to 169 foreign ownership qualified townhouses and apartments that can be sold to foreigners. These residences are set in four distinct zones located on the river side (Coralis), in the middle of the village (Opaline) and along the lagoon (Nautil and La Baie).
Coralis – The Residence on the Bay
Coralis, a group of residences with an exquisite location on the river heights, offers stunning views over the mangroves and the pristine turquoise lagoon beyond. With generous ceiling heights, a mass of outside space in which to lose yourself in a great book, the feeling of spaciousness and light has been accentuated bringing the tropical freshness indoors. The architects have reinvented the basics of island life by merging distinctly modern architecture seamlessly with its very natural surroundings.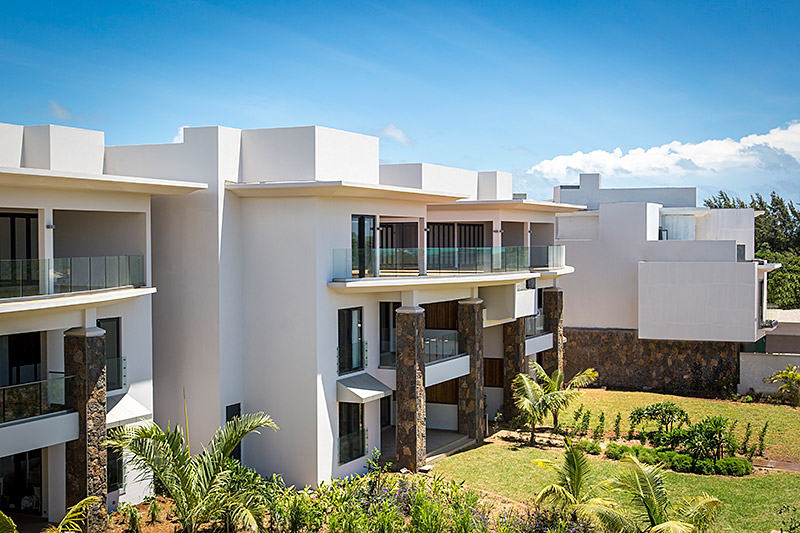 Coralis – Unit #13, 30 & 35
USD 670,000
Ground floor Apartment
Size – 179sqm
3 Bedrooms
Sea View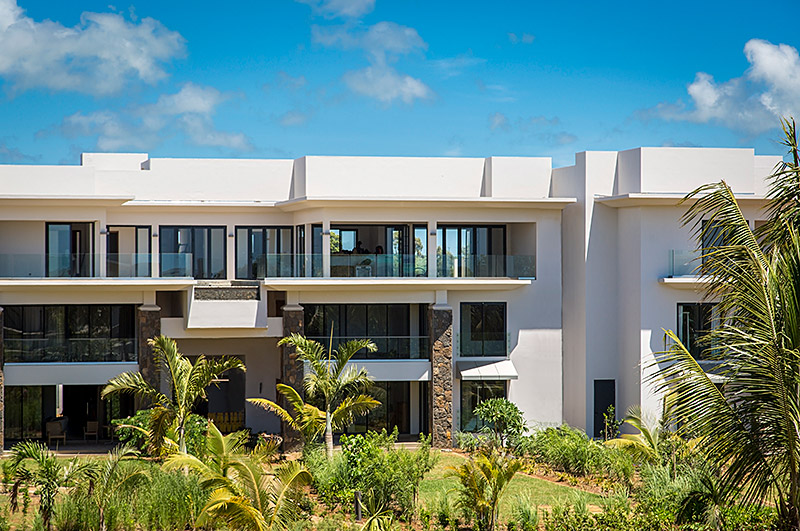 Coralis – Unit #14
USD 695,000
Ground floor Apartment
Size – 178sqm
3 Bedrooms
Sea View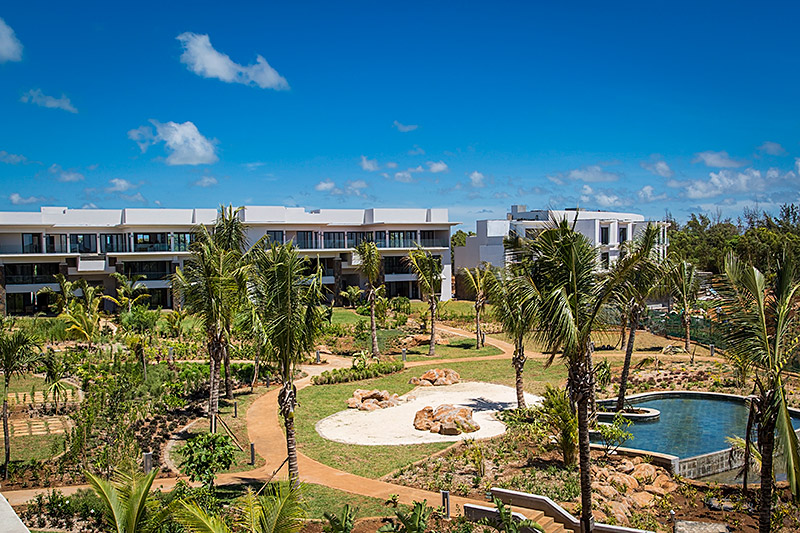 Coralis – Unit #24
USD 700,000
First floor Apartment
Size – 183sqm
3 Bedrooms
Sea View
Marsalin – New IRS residences at Azuri
Envisioned as an artful living environment, that combines subtle lines of design with striking modern details.
The residences located adjacent to the Azuri barachois and lagoon, elevated above the flourishing mangroves, offers a welcoming and sophisticated setting to your home in Mauritius.
Designed to bring a more harmonious relationship between living experiences and nature, Marsalin portrays a simple and fluid architecture, inspired by the curved shapes and figures that are present in the beautiful island environment at Azuri. The forms are stripped down to their essence, expressing the natural beauty inherent in the location and materials used. The use of timber, stone, and glass on the exteriors will bring a greater sense of softness and elegance to the feel of the building. The outdoors makes its way into the fresh and uncluttered interiors thanks to wide glazed openings that optimise breath taking views over the ocean and horizon.
With its prime position on the edge of the ocean front, Marsalin will offer 34 ocean front residences: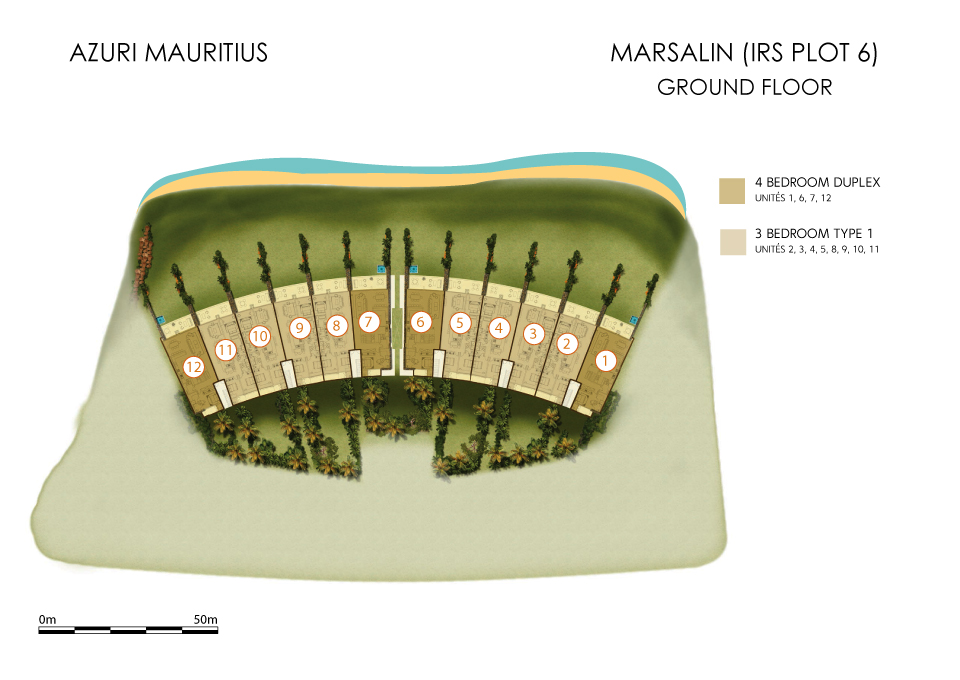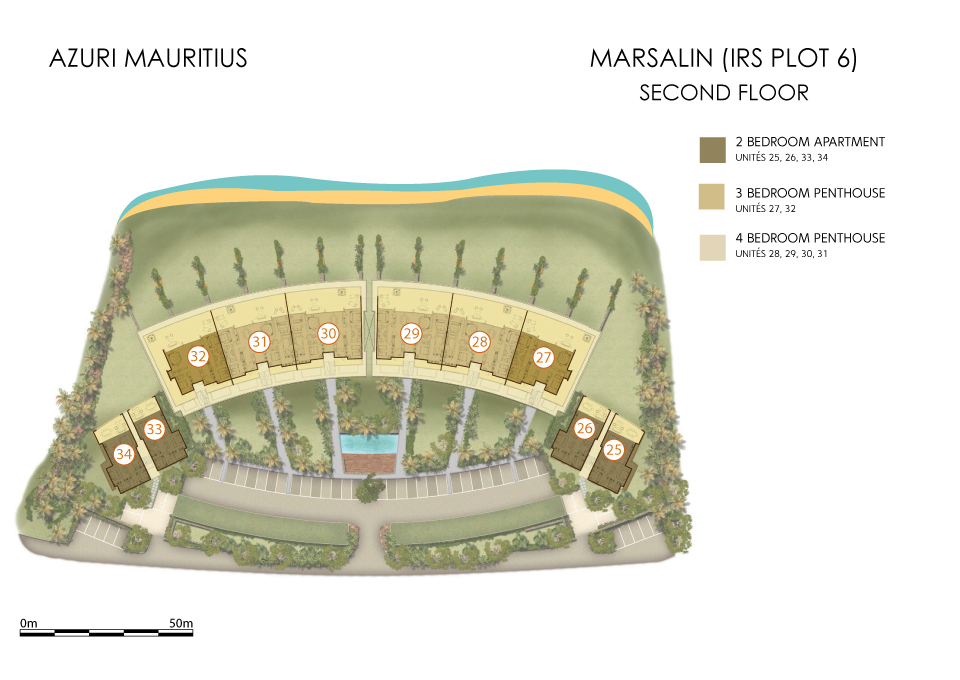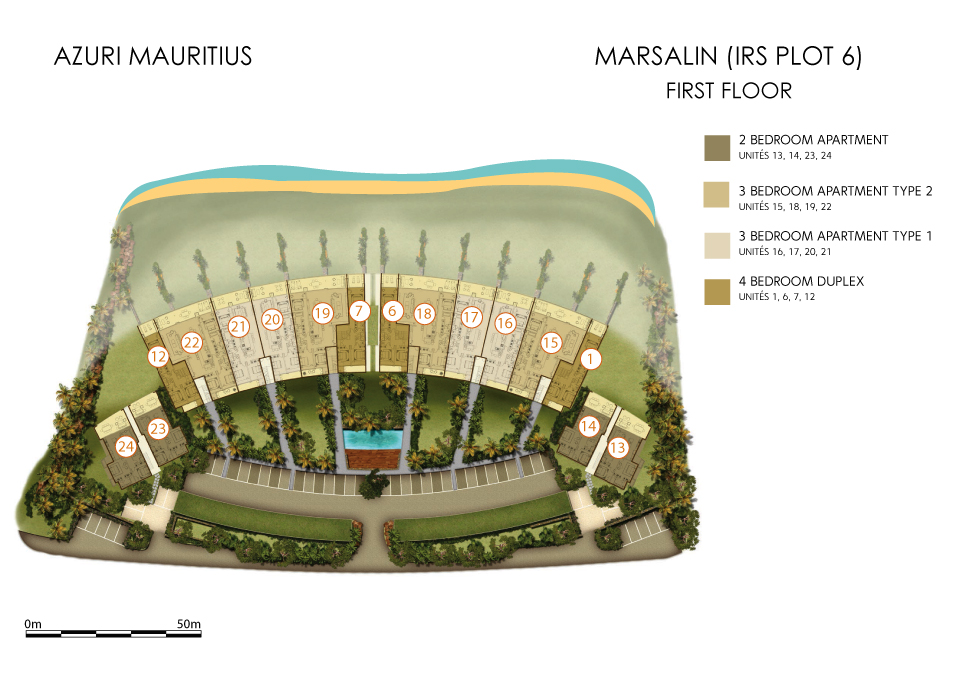 A mix of units:
– 8 X ground floor 3 bed apartments with their own private landscaped garden.
– 4 X ground and first floor duplex apartments with living area located on the ground floor open onto their own private landscaped garden
– 4 X first floor 2 bedroom apartments with private terrace
– 8 X first floor 3 bedroom apartments presented in two different configurations with private terrace
– 4 X second floor 2 bedroom apartments with private terrace
– 2 X penthouses with 3 bedrooms and spacious terraces
– 4 X penthouses with 4 bedrooms and spacious terraces
Certain units can be combined on demand in order to create larger residences
Direct views over the ocean from all the residences
A main pool and deck sheltered at the back of the residences
Parking bays
Mauritius
Mauritius is considered as both a tropical paradise and major business hub, strategically located in the Indian Ocean, 500 miles from the east coast of Madagascar,and midway between the developing continents of Asia, Africa and Australia. The home of the, now extinct, dodo most famously quoted by Mark Twain as "you gather the idea that Mauritius was made frst and then Heaven and that Heaven was copied after Mauritius."
It forms part of the Mascarene Archipelago together with Reunion Island and Rodrigues. The Republic of Mauritius includes the island of Mauritius, Rodrigues, Agalega Islands, Cargados Carajos Shoals (Saint Brandon), Chagos Archipelago and Tromelin.